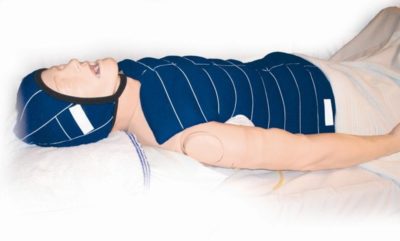 Laerdal MediCool Kit
Laerdal's MediCool Kit allows for clinically effective and mess-free cooling of a patient/casualty.
$625.00 Buy
There is another way to cool patients which is clinically effective and mess-free. Designed by a nurse, Laerdal MediCool is a simple, skin-safe treatment to induce therapeutic hypothermia for improved neurological outcomes for the sudden cardiac arrest patient.
What is Laerdal MediCool?
Laerdal MediCool is an external fabric cooling aid which contains a water absorbing co-polymer.
When frozen, Laerdal MediCool acts as a 'skin-safe' method for effective patient cooling via conduction, convection and evaporation.
The Laerdal MediCool Kit includes 2 colour coded sets each comprising of: 1 blanket, 1 cap, 2 groin pads and 2 axilla pads.
Why use Laerdal MediCool?
Quick and easy to apply
No mess
Minimal storage and preparation
Cost effective for single patient use
Travel pack available to allow pre-hospital use.
$625.00 Buy