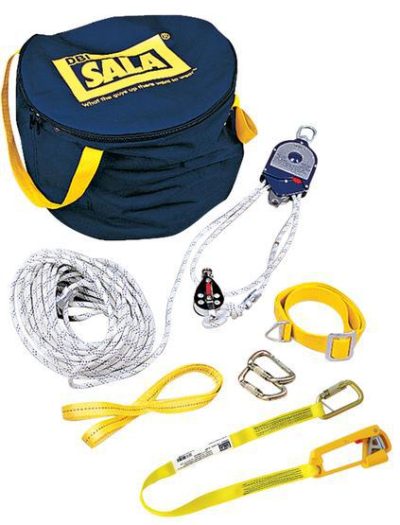 SALA

Confined Space Rescue Kit

The Rescue Positioning Device is designed for raising and lowering workers and is ideal for rescue/retrieval and confined space applications. 15m system.

$2,197.80 Buy
Our Rescue Positioning Device provides a safe, simple rescue system with features for raising, lowering and positioning during normal work activities. The kit is ideal for servicing buildings, bridges and dams, as well as for use within confined spaces.
Contents
Small, light and easy to carry
Pre-rigged for quick and easy installation and use
No special tools, power source or extensive skills needed
Built-in brake stops a fall should user lose control
Lock-out mechanism allows user to stop/start anywhere
Visual mode indicator allows the user to see if the device is in the raise/lower mode or locked -out position
3:1 or 4:1 lifting ratio configurations, available in various lengths
Durable, corrosion resistant tamper proof construction
Utilises static kernmantle rope that elongates as little as 2% under load and resists knotting, twisting, chemicals and grime
Complete kit, includes all the necessary equipment to perform rescue, retrieval, and support operation
Part Numbers:

3:1 Ratio Kit3600050 - Rescue Positioning Device Kit, 15m System, 3:1 ratio
Also available (please contact us for pricing information):
3:1 Ratio Kits
3600075 - Rescue Positioning Device Kit, 23m System, 3:1 ratio
3600100 - Rescue Positioning Device Kit, 30m System, 3:1 ratio
4:1 Ratio Kits
3602050 - Rescue Positioning Device Kit, 15m System, 4:1 ratio
3602075 - Rescue Positioning Device Kit, 23m System, 4:1 ratio
3602100 - Rescue Positioning Device Kit, 30m System, 4:1 ratio
$2,197.80 Buy