Back on Track (Drink/Drug Driver Education)
If you lose your licence because of drink or drug driving, you must complete the Back on Track course before you can reapply for a Northern Territory drivers licence.
Duration:1 or 2 days
Available inDarwin
Upcoming Courses
---
There are no upcoming courses.
Can't find what you're after?
We can put you on our waiting list, or we can organise this course for you.
Contact us
for more information.
For many drink or drug driving offenders, successful completion of the Back on Track Program will be required to reapply for a Northern Territory drivers licence.

Topics covered in the Program include:

Understanding alcohol, blood alcohol concentration (

BAC

) and alcohol elimination
Understanding the legal issues relating to the misuse of alcohol and other drugs
The physical, social and emotional impacts of alcohol and other drugs
The effects of alcohol and drugs on the mind and body and how it effects your driving ability
Developing practical strategies for a range of scenarios which can be used in high risk situations to avoid drink and drug driving
Assist participants to consider the consequences of their behaviour in their own lives and the lives of others
Understand and develop self-awareness regarding substance dependency behaviours
Information regarding other support services
WHICH UNITS DO I NEED TO DO?

The course units you will need to do will depend on:

the offence you were convicted of - drink or drug driving
the blood alcohol concentration you were convicted of - for drink driving offences
if it was your first offence
Convicted drug-driving offenders need to complete unit 1 only.

The table below tells you which course units you need to do.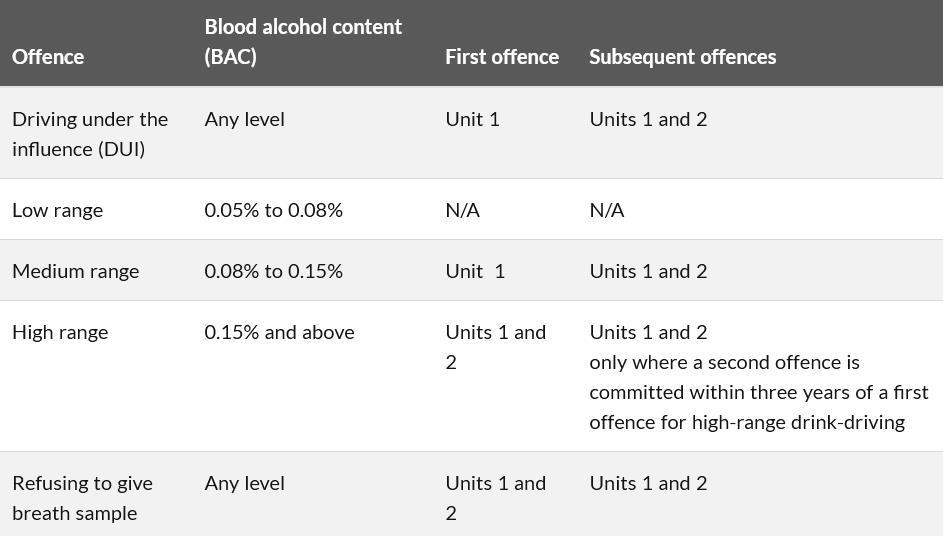 COSTS

Unit 1 only - $250

Units 1 and 2 - $380

** If you are required to complete Unit 1 only you will not be able to book online and will need to contact our office on 8947 2094 or admin@eagletraining.com.au to book **


REQUIREMENTS

You will be breath tested each day of the course and must return a 0.00% reading. If you record any reading above 0.00% you will have to rebook another course and will not be entitled to a refund of fees paid
You must notify us of any cancellations at least 24 hours prior to your course in order to be eligible for a refund

You will be asked to sign a contract to show that you understand and agree to attend with these conditions

You must bring valid photo identification with you

WELFARE AND SUPPORT SERVICES

Eagle Training Services provides welfare and support services within its professional capacity. Participants should identify existing needs prior to enrolment so that appropriate arrangements are made. Where additional support is required, the student will be referred to a specialist agency to access appropriate support. Eagle Training Services has a documented policy regarding access and equity.


PLEASE NOTE

Print your course flyer here.


COURSE TIMES

8.30am - 4pm (each day)

LOCATION
50 Graffin Crescent, Winnellie NT 0820